Here ye, here ye! Week 4 of Meeting People Is Easy is now in session.

Last week things got switched up a bit. You all met Tobiathan and Awful Announcing AND once again got to enjoy the comedic musings of The Immortal Silky Johnson and Tecmo (the artist formerly known as "Tecmo Bowl Bo Jackson" for all you latecomers).

This week, the panel is easily just as fierce. Check 'em out:

1. Blitzburgh, blogger - Behind The Steel Curtain
Some of you may know Blitzburgh, some of you may not. For those of you who don't - Blitz runs one of the best Steeler blogs on these here internets, Behind The Steel Curtain. He also likes long walks on the beach and strawberry margaritas...not that I'd know something like that about him or anything...

2. Sheena Beaston, blogger - Sheena Beaston
To be honest with you guys, I don't know much more about Sheena than any one person can know. As legend has it, she is Tecmo's sister, plays guitar like Jimi Hendrix, and once scored a hat trick on Tom Barasso. See, even I learned something here...

3. Marc, resident badass
What can I say about Marc that hasn't already been said about Pac Man Jones? The man will make it rain on you hoes...4 Life.

4. Nikki, Cotter's pup and accomplished eating machine
I can't believe the Snikster hasn't made her way onto OFTOT sooner. I guess the occasion just never presented itself. Nevertheless, I introduce you all to Nikki, my dog and current love of my life. Nikki is a big fan of - bones, rope toys, chew-lotta treats, eating trash and biting Cotter's ankles. She has that in common with Domski.

So now that we're all acquainted, I guess there ain't nothing left but to get right to it. You'll notice some of the answers this week are kind of small and hard to read. To solve this epic mystery, click on that bad boy and it should pull up the full size image with sufficient clarity for your eyes to feast. Enjoy!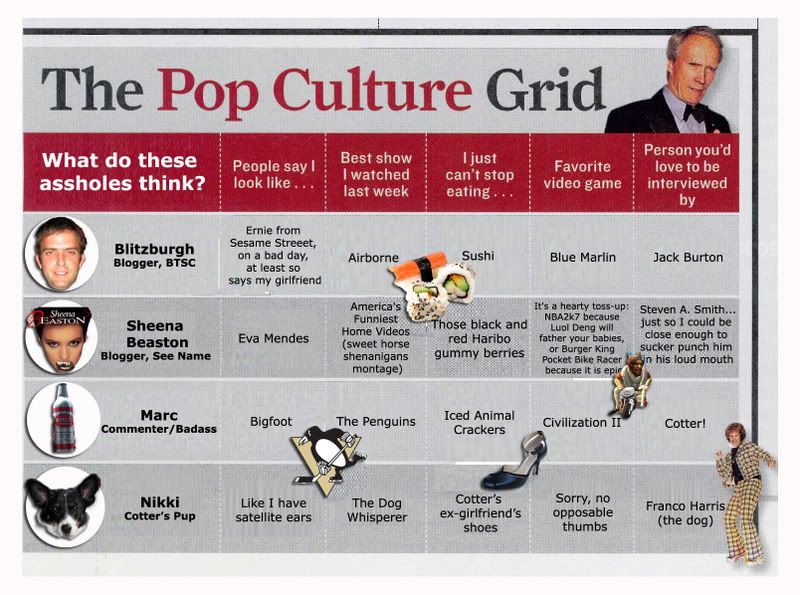 One more thing - as usual, if you'd like to participate (and of course we would love for you to participate), just drop me an email at onefortheotherthumb@gmail.com.

Happy Friday Friends, Enjoy Your Collective Weekends,

- C

PREVIOUS EDITIONS:
Week 1
Week 2
Week 3