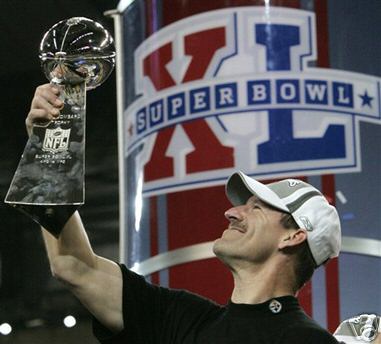 I'd be remiss if I didn't mention once again that Bill Cowher, a Man among men, has just announced his retirement this afternoon. Cowher, who has guided the Steelers through 15 years of glory, can proudly lay claim to two Super Bowl appearances (one win), six AFC Championship game appearances, eight division titles, TEN playoff runs (in 15 years! This includes each of his first six years as head coach), and an overall record of 149-90-1.

Whew, can I breathe again? Anyways, this is an obvious testament to Cowher and his staff's knowledge of both NFL football and Steeler football. While there were many skeptics in 1992 when Bill took the reins from the legendary Chuck Noll (he was only 34 at the time!), those individuals were quickly silenced as the Steelers went 11-5 that year and earned a playoff berth. That season set the tone for Bill's entire run with the organization. In fact, during Cowher's tenure, the team only posted three losing seasons ('98, '99, and '03).

But what's even more compelling is that it was all done the Steeler way. What I mean by this is that the Steelers, outside of a few exceptions, do not do certain things other teams are apt to doing, such as pay out big salaries, sign free agents in general, and entertain self-important players (don't mention Joey Porter, he doesn't count). Cowher's Steelers, with Cowher maintaining the Steeler way, were marked by a feeling of brotherhood and team that is rarely seen anymore in today's game. He was able to win the way he was hired to win and do it on a more than consistent basis.

So it is with a heavy heart that I and many other fans say goodbye (at least for now) to Bill Cowher as Steelers head cheerleader, I mean coach...

Bill - you will be forever enshrined in the hearts and minds of our Steeler nation. Thanks for the memories!


Read more about "The Chin", as he is often affectionately referred to, here.